Visual Detection Device(both sides)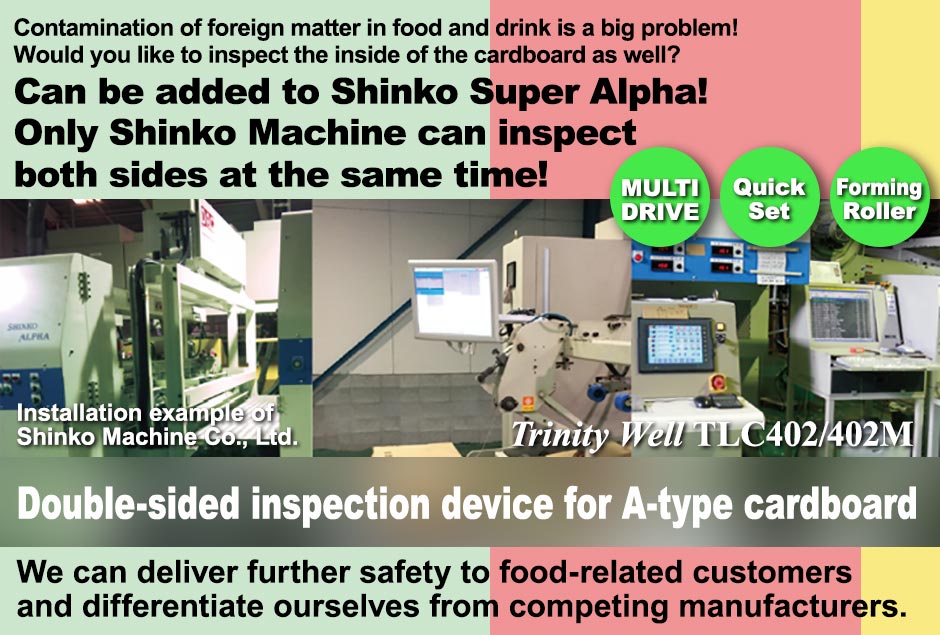 Features of image equipment (both sides) for printing, gluing, contamination, etc.
This is a "double-sided inspection device" that can be additionally installed, enabling image inspection of the inside of cardboard boxes as well.
No-mask inspection method
Due to the DAC original inspection method, there is no uninspected area in the inspection section.
Newly developed defect circuit improves inspection accuracy.
Character-only, barcode-only, and periodic defect detection circuit improve inspection accuracy and prevent defect outflow.
Gallery for product traceability
Inspection history can be saved in the digital image filing device Gallery, and past inspection results can be viewed easily with images.
Yield is improved by the pattern automatic extraction function
By automatically cutting out the printing part and the texture part, normal inspection for the printing part, weak inspection for the texture part, and strong inspection for the bar code part are performed. It can stably inspect the printing defections.
Ultra-bright LED system (developed in-house)
In-house developed ultra-bright LED lighting with excellent contrast is used.
Uniform illuminance is achieved by matching the color temperature of each LEDI chip.
Easy operation reduces the burden on the operator.The inspection level can be selected from 5 patterns (from rank 1 to 5), and can be set according to the inspection accuracy request from the end user.
Product type switching by production control data communication
Product type data is automatically generated by CNC communication from the host. The type and paper size are automatically set, and in the case of repeat orders, automatic inspection is possible without any operation.
Examples of defect inspection
Adhesion of dirt
Blurry print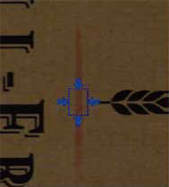 Missing print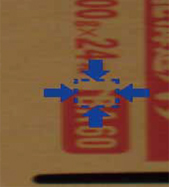 Oil stains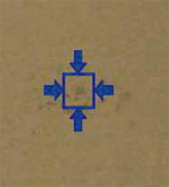 Device configuration example
Inspection specification
| | |
| --- | --- |
| Full inspection width (both front and back) | 2200mm(2 cameras) |
| Inspection width per camera | 1160mm |
| Min. resolution (width) | 0.30mm(X) |
| Min. resolution (length) | 0.30mm(Y) |
| Defects to be inspected | Print misalignment, faintness, dust, dirt, etc. |
| Inspection method | Full-color image processing method |
| Inspection interval※distance | 1280mm or more※Interval between top of paper to top of paper to be inspected |
| Number of sheets processed | Up to 250 sheets/min(Details depend on the printer specifications.) |
| Max sheet size | 1280mm×2100mm(Vertical x horizontal) |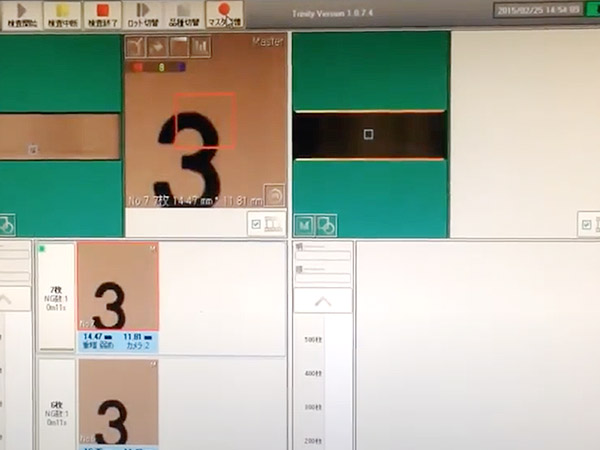 Inspection screen

Inspection device function
Number of defect image filings
500,000 images
Data of the product type
Automatic (By production control data communication, product types are created automatically.)
Palletizer section defect display application (option)
It is also possible to display the defect sheet from the number of batches (number of stacks) by receiving data from the host (management device).
PDF digital plate inspection system
  (option)
A plate inspection is performed by comparing the design (plate) data, which is the master, with the printout.
Configuration example
| | |
| --- | --- |
| Camera unit | 4096-bit 3-line color line sensor camera, simple dust-proof structure, with board cooler |
| Lighting unit | Simple dustproof structure |
| Ccontroller | Simple dust-proof structure, with panel cooler, 17-inch TFT monitor, UPS |
| Lighting power unit | Built in camera unit |
| Inkjet printer | A4 color inkjet printer (installed inside the controller) |
Equipment general specifications
| | |
| --- | --- |
| Power supply | Single-phase AC200V 10% 50/60Hz |
| Power consumption | 4.5KVA |
| Air purge | none |
| Ambient temperature | 5~50°C |
| Operating humidity | 20~80%(No condensation) |
This specification is subject to change without notice