Box-making machines and printing machines - Shinko High Printer (FP-1216 / 1220)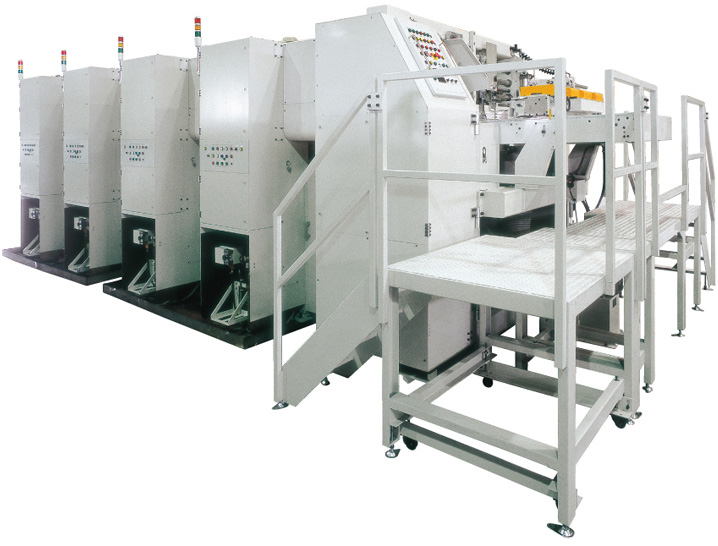 The corrugated cardboard industry has diversified.
In order to meet these severe needs, Shinko has further developed our flexo printers.
The machine prints from the bottom while the sheets are transferred at the die cutter's pass line at over 2,000 mm from the floor.
A new flexo printer born in response to the needs of the next generation.
That is "Shinko High Printer FP series".
Specification
Machine specification
FP-1216
FP-1220
Maximum sheet size
(mm)
1,200×1,600
1,200×2,000
Minimum sheet size
(mm)
400×600
400×600
Printable dimensions
(mm)
1,150×1,600
1,150×2,000
Maximum speed
(sheets/min.)
250
250
Functions List
Unit name
Specifications and Functions
Standard equipment
Optional equipment
Feeding Unit
Roll less feeder
○
Large side jogger
○
Automatic mechanical
return-to-origin device
○
Test paper threader
○
Sheet jam detector
○
Oblique paper feed sensor
○
First batch device
○
Skip feed
○
Printer
(Printing Unit)
Plate cylinder moves up & down
(Fixed type printer)
○
Chambered doctor blade system
○
2 roll type
○
Multiple colors.
○
Printing from bottom
○
Plate cylinder lateral motorized adjuster
○
Plate cylinder automatic origin return device
○
Electric film winding device
○
Automatic ink supply cleaning device
○
Out of ink warning device
○
Automatic ink touch device
○
Ceramic anilox roll
○
Ink bath teflon coating
○
Teflon coating around the ink can
○
Equipped with 1 can of ink
○
Equipped with 2 cans of ink
○
Carrying Unit
Suction type carrying belt
○
CNC
Centralized control system with touch panel
○
Teaching function
○
Uninterruptible power system
○
Communication to the production control system
○
Communication with external devices(superαも?)
○
Large display
○
Features and Functions
Feeding Unit
Roll less feeder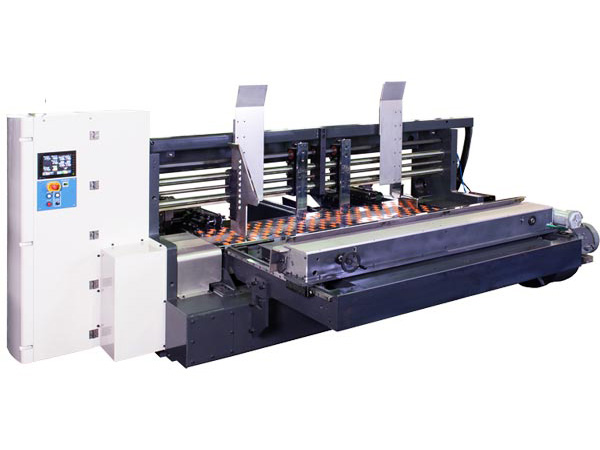 Roll less feeder helps less sheet crushing and maintenance easily!Learn more
Gate-shaped side jogger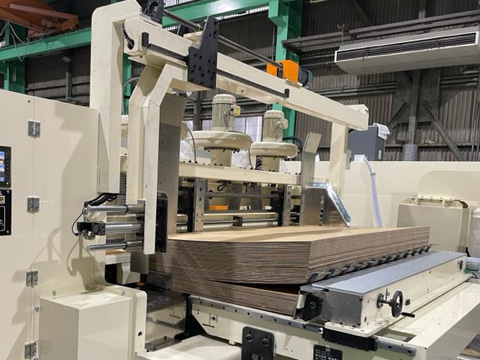 A large gate-shaped side jogger surely aligns sheet edge.
Test sheet running device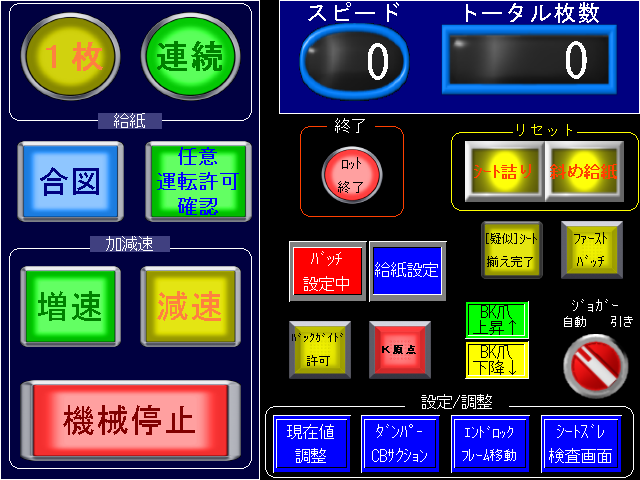 After automatically accelerating the machine, only one sheet is fed.
Sheet jam detector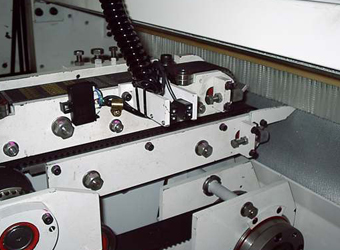 Sheet jams cause machine damage. A sensor detects jams and automatically stops the machine.
Detection device for misaligned sheet feeding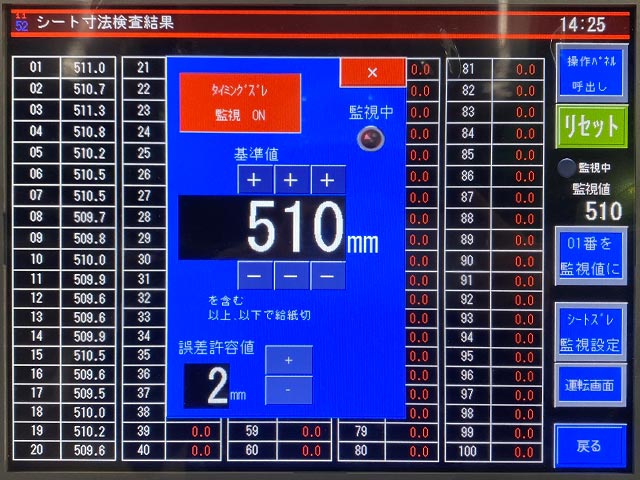 Detect misaligned sheet feeding and stop feeding.
Printer (Printing Unit)
Plate cylinder moves up & down (Fixed type printer)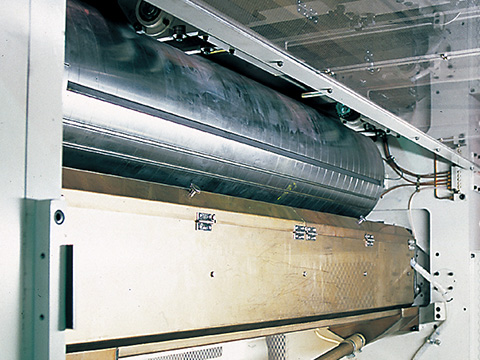 Unit fixed type, the plate cylinder raises and downs.
Each unit is connected by the carrying belt, the plate cylinder and ink roll can be downed about 100mm from the sheet pass line. The plate cylinder of the not-in-use printers can be downed for changing printing plate, or prepare for the next order, even while the machine is running. It shortens the setup time significantly, and reduces the work.
Chambered doctor blade system (Standard specification)
The doctor chamber type is the standard specification. Shinko's unique shape of the chambered doctor blade system ensures sharp and high-quality print images. A 2-roll type for varnishing and solid printing is also available.
Multi-color printing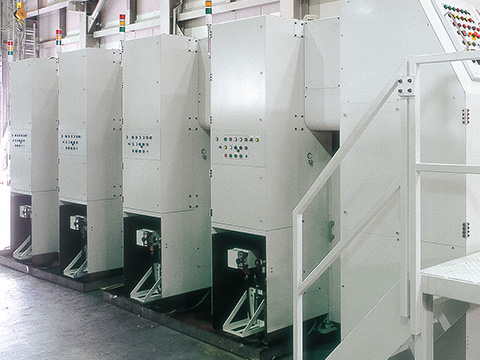 Depending on the combination of printing units, it is also possible to handle multiple colors from 1 color to 4 colors or more.
Carrying Unit
Carrying Suction Belt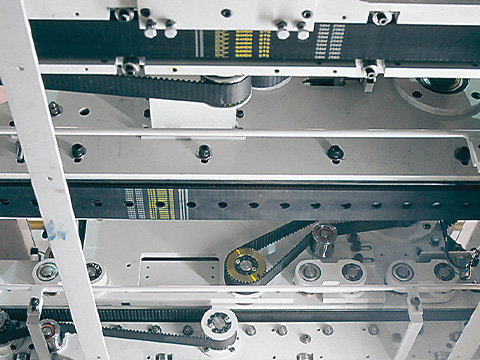 Left & right and center belt are suction type. Sheets are conveyed while sucked with upper belt. Bottom Belt prevents sheets from falling.
CNC
Main control system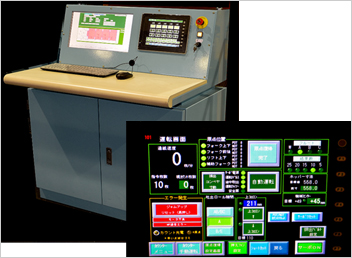 Equipped with dedicated flexo gluer software that has been developed and improved independently, enabling accurate work in a short setting time.
Teaching function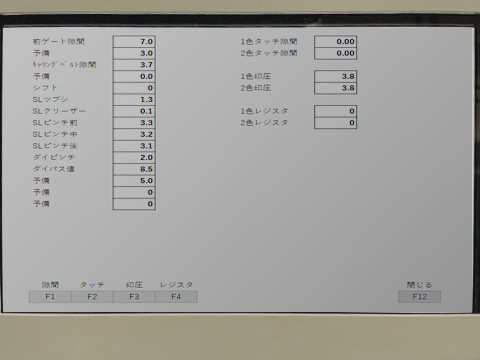 It is possible to let the machine learn the unique settings for each sheet and product to save the trouble of resetting when ordering repeat orders.
Large display (option)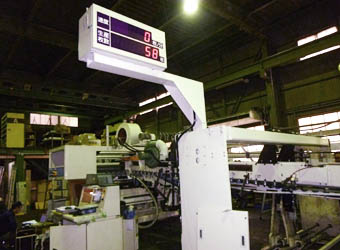 The large display shows machine status. (machine speed, set up time etc)
Network communication (option)
Send machine setting data to peripherals, and pass data with various management systems.